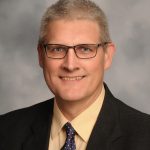 A
rt Sathoff
reading, watching sports, dining out with my wife.
What is your favorite quote?
I have a lot of them and am constantly looking for good quotes. Here's one: "God doesn't call the qualified; He qualifies the called."
If you could learn to do anything, what would it be?
I should have taken piano lessons more seriously in my youth, and I would like to be fluent in another language, too.
Who in the Bible would be your best friend?
I think I would greatly respect Daniel, who put principles ahead of preferences and lived with courage. As far as a best friend, though, to know Jesus is to have a best friend!
TATE SINCLAIR

How did you meet your wife?
My wife Susan and I met at Northwest Missouri State University.
When did you start attending ICOC?
We started attending in 2014.
What is your favorite Christian book you have read?